NORTH CONWAY, N.H., January 17, 2022 — Digitunity, a nonprofit organization with a mission to close the digital divide, recently welcomed two new team members, Lindsay Ouellette of Brewer, Maine, and Sonia Dhawan of Baltimore, Maryland. Both individuals will play important roles in Digitunity's mission.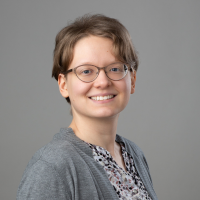 Lindsay Ouellette is the organization's new marketing and communications coordinator. She is a 2014 graduate of the University of Maine with a Master of Education specializing in Secondary Education. She most recently worked for a web design agency as a marketing manager.
Her desire to work towards digital equity comes from her experience as an AmeriCorps Member with the National Digital Equity Center during the 2018-2019 academic year. Her experience as both an educator and marketer make her a unique asset in advancing Digitunity's work.
Sonia Dhawan is the newest program officer at Digitunity specializing in community and network engagement. She has experience that spans the globe as she previously worked for the Department of Education in India before returning stateside for graduate school.
Upon completing her studies, Dhawan worked for the Baltimore Public School System in the Office of Equity. She firmly believes in the power of authentic engagement and partnership to create a world where everyone has what they need to thrive.
"I am thrilled to welcome Sonia and Lindsay to the Digitunity team, filling two key roles as we continue our ongoing staff expansion," says Scot Henley, Executive Director, "Digitunity, our mission, and the people, and the organizations we serve will all benefit from their passion for digital inclusion and the outstanding experience they bring."

Digitunity works in a national coordination role for an extensive network of over 1,500 digital inclusion practitioners, collectively working to sustain and scale long-term systemic change and impact in the pursuit of digital equity through computer ownership. To learn more about Digitunity, please visit digitunity.org.
Contact:
Susan Krautbauer, Senior Director of Strategy and Development
Digitunity
sue@digitunity.org | 203-863-9100, ext. 375