Solutions that involve the focused use of technology resources can help close the significant gaps of the digital divide.
- Dr. yvette Marrin, co-founder
Leading a National Strategy
Device ownership is the heart of digital equity and the key to unlocking opportunity. Digitunity has been working to get computers to those in need since the mid-1980s, placing hundreds of thousands of computers since our founding. However, the depth and persistence of the technology gap and the urgency of the need drove us to attack the issue in a bold new way. And we won't stop until everyone is included and all barriers that limit opportunity to participate in our digital society have been removed.

Landscape research conducted recently by Digitunity and Collective Mind identified a need for a comprehensive national strategy to address device ownership. With a proven body of work and a national network of member organizations already in place, Digitunity is rising to meet this challenge. Here's how:

Device ownership is the forgotten aspect of the digital divide, critically important for unlocking the vast opportunities that the internet can provide. Digitunity is building public and corporate awareness about the technology gap, shining a light on this national issue.

From national-scale initiatives to local coordination of resources, Digitunity is developing and leading programs that advance device ownership and lending its expertise and resources to programs led by peer organizations.
Digitunity supports and administers a wide network of local service-delivery organizations, each serving their communities by connecting individuals and families with computers, internet access, and digital skills.
Digitunity is studying the role device ownership plays in our lives and the barriers that limit participation in our digitally-connected society, and sharing that knowledge through publications, reports, blogs, social media and presentations. 
Technology reuse is fundamental to advancing device ownership. Digitunity is continually cultivating a robust supply chain of no-cost and low-cost computers and related accessories for low-income individuals and underrepresented communities.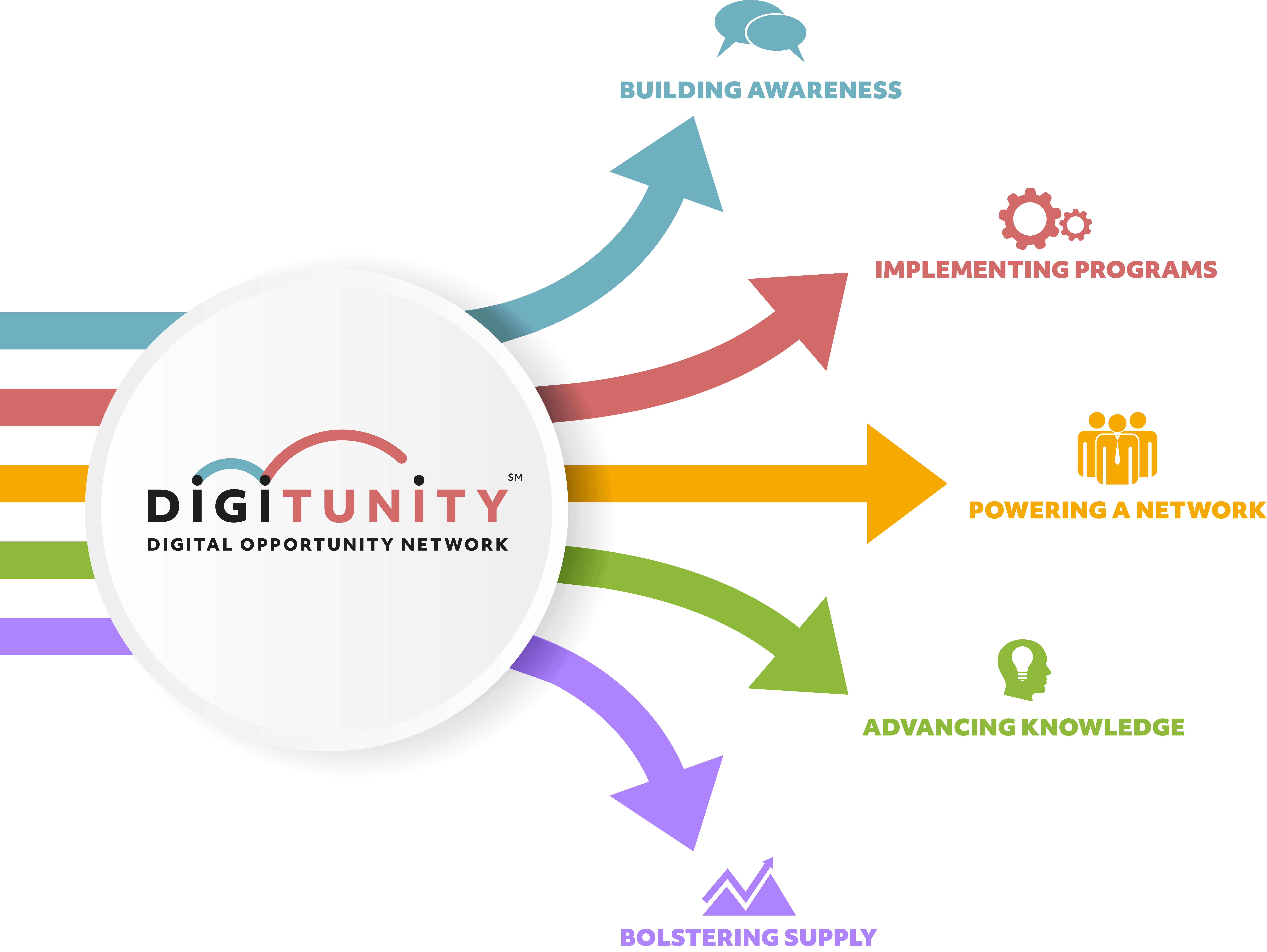 For the latest updates on Digitunity's efforts, please sign up for our newsletter.
Find out about how you can be part of the movement.
Are you looking to learn more about the digital divide?
Are you a nonprofit looking for computer donations?