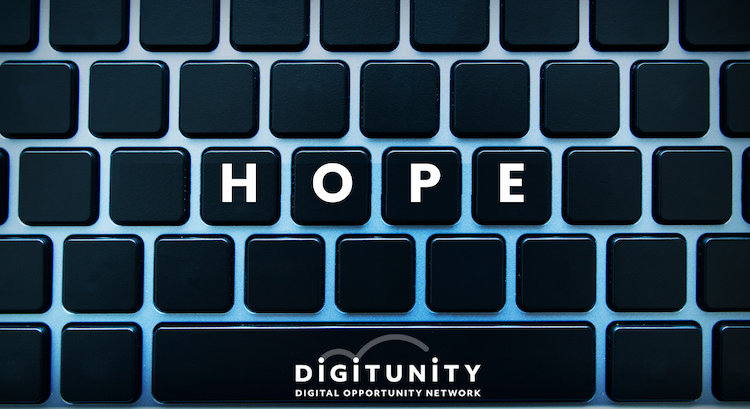 January 20, 2021 — Scot Henley, Executive Director
One Computer 
One computer in the hands of a student can turn into a job that takes a family out of generational poverty. One computer on the kitchen table of someone unemployed can open a new business. One computer can ensure an older adult is less isolated and able to access medical services they need. So many people are cut off from opportunity because they don't have a computer.
The number is staggering. According to the U.S. Census Bureau's 2019 American Community Survey, 36 million Americans don't have a computer at home. Moreover, tens of millions of households don't have enough computers to allow for concurrent use by multiple family members. These non-deviced or device-deficient households make up what we call the "technology gap." Individuals in these households are often unable to access education, telehealth, employment, and more. 
For a variety of complex, interwoven reasons, people experiencing this gap are forced to be on a different trajectory than those who are not. Marginalized populations bear the brunt of the technology gap. It's not right and we can do better. It is not a stretch to acknowledge that digital equity is a civil rights issue, one worthy of outrage and urgent action. The problem is not insurmountable, it just needs laser focus and the will to put in the work to solve.
Device ownership is the heart of digital equity.
We believe everyone who needs a computer should have one and device ownership is the heart of digital equity. No one should be left behind. That's why National Cristina Foundation is leveraging and building upon 37-years of work in this space to launch a new initiative called Digitunity.
Soon, Digitunity will become a new, national-scale public charity dedicated to this work, leading a unified strategy to eliminate the technology gap at scale. There are many incredible people and organizations across the nation who are each attacking this problem in their own way, connecting people in need with no-cost or low-cost computers and training programs.
Businesses large and small have galvanized their organizations in support of this mission, donating  excess computers, arranging local device drives and offering financial support. There are also passionate leaders of government agencies, non-profit organizations, schools, libraries, and communities working tirelessly to find solutions for their constituents. And of course, there are the individuals who are directly affected, and that is who we are working for.
For a variety of complex, interwoven reasons, people experiencing the technology gap are forced to be on a different trajectory than those who are not. It's not right and we can do better.
Digitunity is aligning efforts and resources so lasting solutions are created. We're bringing people together, sharing knowledge, amplifying, and spreading what's working, and ensuring solutions serve those most affected. We're focusing attention on the extraordinary power of device ownership, and the sweeping impact of technology reuse.
We're working on increasing technology donations from companies, government sources, and people, like you and me. Digitunity also proudly supports a national collective of non-profit refurbishers through our Alliance for Technology Refurbishing and Reuse (AFTRR) program, a group that distributes no-cost and low-cost computers, along with digital skills training, in communities nationwide.
Changing the national conversation and growing supply ensures that technology refurbishers can meet the needs of their communities. There are enough computers, today, for everyone who needs a computer to have one. But it will take national leadership to make it happen.  
A New Beginning, Built on Hope
Each new year presents a fresh start, and we begin 2021 with hope. While we keep pushing through big challenges facing all of us, issues of health and safety, racial justice, trust in institutions, security, and financial stability, on a personal level I am driven by hope. It will take work, but we'll get there. The staff and Board of Digitunity are driven by hope as well. As we begin this new journey, we will work not towards one-off solutions, but systemic, long lasting change.
Informed by local efforts and driving a unified national approach, we will achieve the ambitious but critical goal where everyone who needs a computer has one. After all, everyone deserves the opportunities, possibilities, and hope that owning a computer provides. One computer + opportunity + collective action + hope for the future. For everyone.
That is Digitunity.
To learn more about Digitunity's work, please visit digitunity.org, a program of the National Cristina Foundation.