Today's tech-savvy youth are often comfortable navigating within our digitally connected world. However, their grandparents and other older adults in their lives often lack the confidence and skills for using the latest technology. While they strive to navigate healthcare, financial systems, employment, and staying connected with family and friends, many struggle to keep up with technology and have fallen behind.
Technology can bridge generational gaps. Yet, it can also present unique challenges, especially for grandparents raising their grandchildren. With nearly 8 million children living in homes where a grandparent is considered the head of the household in the United States alone, these generation and technology gaps need to be addressed. 
The COVID-19 pandemic exacerbated these gaps and challenges, creating an urgency and momentum to address the technology needs of older adults and children alike. Grandparents have worked to navigate technology and other challenges to support their grandchildren's schooling as it moved online.
Here are 3 ways organizations & families can receive support to meaningfully participate in today's digital society:
1. Providing Devices & Internet Access
As demonstrated through Digitunity's Technology Gap Map based on American Community Survey data, an estimated 15% of people over the age of 65 do not have a computer at home. This is one of many challenges facing those helping children or grandchildren with online learning. A variety of organizations in Digitunity's Digital Opportunity Network focus on providing devices and training for older adults to support their grandchildren's schooling.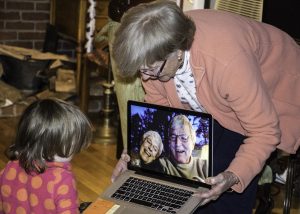 A notable example is the Grandparent Resource Center in New York City. During the early months of the pandemic, the Resource Center distributed free tablets equipped with Wi-Fi to older adult caregivers of school-aged children so they could access virtual programs, navigate remote learning, and stay connected with others socially. The city and the Resource Center also offered a year of free internet service for older adult caregivers alongwith the free tablets. These initiatives helped to successfully bridge the digital divide and connected generations through the use of technology. For information about the Grandparent Resource Center and its offerings, visit nyc.gov/aging. 
2. Support Groups
The pandemic and related restrictions affected people's ability to connect socially. Older adults have long been impacted by the effects of loneliness with an estimated one in five seniors considered socially isolated. Caring for grandchildren can add to this isolation as seniors must devote their time to meeting their grandchildren's needs before their own.
To reduce this isolation, in-person and virtual support groups have formed for older adults raising their grandchildren. An example of one of these groups is a Facebook group created by Healthy Grandfamilies of West Virginia. Along with providing devices to older adults raising their grandchildren, this organization provides its beneficiaries opportunities to socialize in the group.
The Healthy Grandfamilies Facebook group is not just for socialization, however. Many group members use it as a forum to ask questions and seek support from others in similar situations to their own. This, in turn, leaves these grandparents feeling less socially isolated and more supported as they raise their grandchildren during a global pandemic. However, to participate in the group requires the older adult has a device, the internet, and the skills to use them.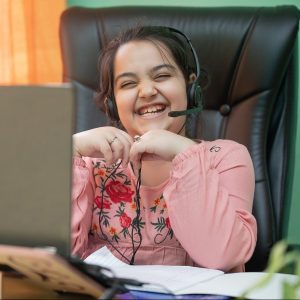 3. Education
Based on self-assessment, 44% of grandparents say they are tech-savvy, but an equal number say their technology skills are just average. To better support their grandchildren, grandparents can seek opportunities to improve their technology skills or learn new ones. One such opportunity is a family workshop hosted by Digitunity's Digital Opportunity Network member organization, Loaves, Fishes, and Computers of Salinas, CA.
The organization hosts three and a half-hour bilingual workshops on-site to families that introduce digital literacy to adults with the help of the children. The workshop also includes a computer refurbishing experience. Participating families bring home a Chromebook that they refurbish that day for free. The adults and children also engage in a digital literacy team-building scavenger hunt activity.
By promoting free, local, in-depth digital literacy classes, Loaves, Fishes, and Computers encourages parents and grandparents to further their education. It also leverages young people's digital skills by providing them with the opportunity to support their caregiver in learning these skills. To learn more about this workshop and other course offerings from Loaves, Fishes, and Computers, you can visit the organization's website here. 
Learn More
At Digitunity, we want to support grandparents raising their grandchildren in navigating our digital world. This is why we compiled some resources for older adults that you can download for free here. We hope you find these resources helpful as you care for your grandchildren or enhance your own digital skills.