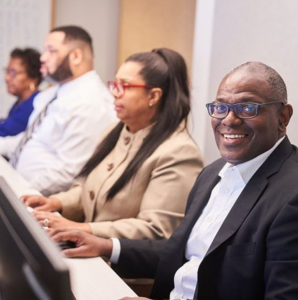 The COVID-19 crisis exposed a deep, persistent "technology gap," as millions of people were cut off from school, employment, telehealth, and community. The lack of access to devices, internet, and technical support, and digital skills has existed as long as computers have, but there has never been a more pressing moment to address these issues.
The technology gap can be broken down into three main issues:
No-Computer Households
According to a recent Pew Research Study, 43% of low-income households, an estimated 15.2 million people, are without a desktop or a laptop computer in the United States alone. This puts these families (both adults and children) at a disadvantage when considering education, career-building, communication, and basic life needs in the modern world.
Under-Deviced Households
One computer is not enough for today's families. Consider a family of four. If the parents are looking for jobs or seeking to further their education, they both need a computer. Or one parent may need access to a computer for a telehealth appointment while another needs it for work.
As schools make more use of technology than ever, including for virtual learning, each child may need access to a computer at the same time. If these families all must share one device, they will find themselves challenged at school, at work, and more.
Digital Literacy
Providing devices is only part of the solution, as 32 million people in America cannot use a computer effectively. For those looking to increase their career opportunities, computer skills are essential. A recent study by Burning Glass, a tech company that conducts research on the labor sector, found that 82% of "middle-skill jobs" require computer literacy.
Middle-skills jobs that are considered "digitally intensive" often pay upwards of $28 an hour, well above minimum wage. These jobs provide opportunities for development and upward movement to high-skill and higher paying jobs. Yet, half of adults in the United States aren't comfortable using technology to learn.
That's the Problem. So, What's the Solution?
There is no shortage of computers that can be donated to those who need one. According to Statista, 56.2 million computers were sold in 2019 alone. Businesses and individuals typically upgrade or replace their computers every two to three years to stay current with ongoing advances in hardware and software. But where are all those retired computers now?
The two most common ways people dispose of used technology are:
Recycling
Most local trash disposal companies take your computer at no cost. After they receive the computer, they disassemble it and recycle some parts. Precious metals like gold, silver, platinum, and palladium are removed for their value. Some recyclers may give you a small credit for the value of those metals, which would be considered your Return on Investment (ROI).
Resale
Many Information Technology Asset Disposition (ITAD) companies, both online and brick and mortar, offer to buy your old machines at a fraction of the cost of what you paid for them. These for-profit ITAD providers wipe your data, repair broken machines, refurbish the computers, and resell them to a third party. Your ROI here is most often calculated as a small percentage of the third party sale.
A Better Option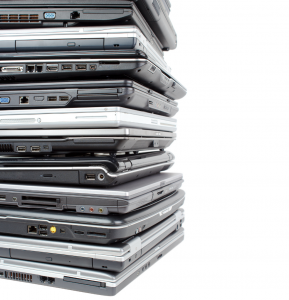 Digitunity is a 501(c)3 nonprofit that has worked in digital reuse since 1984. The Alliance for Technology Refurbishing and Reuse (AFTRR) is a program of Digitunity that includes over 100 nonprofit refurbisher member locations across the United States and Canada. 
AFTRR refurbishers safely and securely process thousands of donated corporate computers a month while adhering to the same operational and data security standards as for-profit ITAD organizations. 
The difference is that AFTRR members focus on refurbishing these computers, often bundling them with software, wi-fi hotspots, and training, and providing them to low-income families and other small nonprofits at low or no cost to the technology recipient. 
Last year alone, over 200,000 computers were distributed to and through Digitunity's member network. Beyond providing refurbished computers, AFTRR organizations also provided digital literacy training and technical support needed to over 12,000 individuals within their communities. It's not just about access. It's also about providing support to those who need it most.
ROI + ROC
When disposing of your old tech by traditional means, your potential Return on Investment (ROI) is limited. CSImarket.com estimates the average ROI on tech equipment to be around 11%. But what about your Return on Community (ROC)? How are your used computers making a lasting impact in your own neighborhood?
When thinking about the value of a retired computer, we don't just measure the simple monetary return (ROI) of that investment. At Digitunity, we calculate the total value of that refurbished computer using a much different valuation, what we call Return on Community (ROC).  Return on Community measures how much impact your donation has on people and the environment.
Just one computer can:
Give a student access to education and turn it into a job that takes their family out of generational poverty.
Help an unemployed person pursue a new business or career path.
Ensure an older adult is less lonely and isolated.
Provide access to telehealth.
Allow a refugee to learn essential workplace skills to support their family.
Change the life of a veteran by interrupting the cycle of homelessness and poverty through digital education, training, and resources.
Give a person with disabilities the chance to make an income without being limited to physical labor.

When you donate your used computers to Digitunity or one or our AFTRR members, your ROC is far-reaching. You make a difference in the lives of people by opening opportunities to education, jobs, and connection. Every day, we hear stories from the field that illustrate the real-world value of Return on Community.
Here is what one recipient shared with us recently:
"I'm a student at a local college. Thanks to this donation, I have been able to concentrate more on my studies. I am on a very limited income so every expense is stressful. Thanks to this low-cost internet and the free Chromebook provided by your organization, I have been able to experience some relief of the stress that I experience monthly. Most everything related to school has ties to the internet or a computer, so in order to succeed you must have access to both."
You Can Make a Difference
When you donate your used computers to one of Digitunity's AFTRR organizations, you change the lives of people. A recent donation from Planar, a digital display manufacturing corporation, was a huge help in accomplishing this goal.
Kyle Henderson, Planar's Marketing and Communications Manager had this to say about his donation experience, "The 800 screen donation made a significant impact in bridging the digital divide. That donation not only supported the mission of Digitunity, but also supported the nonprofit organizations they work with in their local communities."
Just like Kyle, your organization can be proud to share with your board members, customers, and employees how the company cares about their community. Your company can close the technology gap by donating technology to Digitunity. In partnership with their AFTRR members, they will transform your retired computer into a gift that opens up a world of digital opportunity to a child, family, or nonprofit organization in need.
Take the First Step
Your company's ROC is just one computer away. Click here to fill out our donation information form. We will match you with a worthy organization in your area, so you can start changing lives today.
Learn More
If you'd like to learn more about how donating your computers can help to close the technology gap, check out our infographic to the right. If you'd like a larger copy sent to you, you can fill out our form here. We'll email you the infographic along with more information about the technology gap and other ways you can get involved.