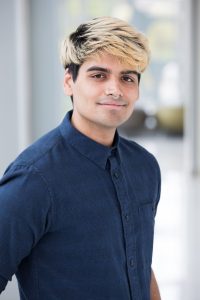 NORTH CONWAY, N.H., October 21, 2021 — Digitunity, a nonprofit organization with a mission to close the digital divide, has named Nirvan West as its new Program Officer, Technical Engagement. West previously worked as an IT Support Specialist with the University of Pennsylvania. In this new role, West will harness technical knowledge in support of sustainable device and digital inclusion solutions and initiatives that serve local communities. 
West has a deep commitment to Digitunity's mission and is skilled at problem solving and innovating technology solutions for new and experienced users. Digitunity works in a national coordination role for an extensive network of over 1,500 digital inclusion practitioners, collectively working to sustain and scale long-term systemic change and impact in the pursuit of digital inclusion and equity for all.
"Nirvan is a welcome addition to the Digitunity team and our Digital Opportunity Network" said Karisa Tashjian, Director of Programs. "Nirvan brings a unique combination of skills, experience and passion to Digitunity and digital equity efforts that are very needed. His technical expertise paired with his long involvement in community social justice efforts will allow Digitunity to further achieve its impact." 
West has a long affiliation with the University of Pennsylvania and Temple University. He has supported faculty, staff and students at the Arts & Science Computing Department at Penn. Most recently, he supported faculty and staff across 43 departments. West completed his undergraduate studies at Temple University. To learn more about Digitunity's work, please visit digitunity.org.
Contact:
Karisa Tashjian, Director of Programs, Digitunity
karisa@digitunity.org | 203-863-9100, ext. 344