The Computers for Veterans and Students Act (COVS Act) will provide more federal surplus computers to veterans, students, and seniors in need.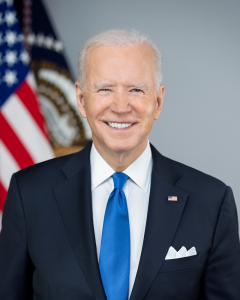 January 2, 2023, WASHINGTON, DC – President Joe Biden, last week, signed into law, a bipartisan bill to provide federal surplus and repairable computers to non-profit computer refurbishers who will then repair and distribute these computers to veterans, students, and others in need.
In 1949, Congress created the Federal Surplus Personal Property Program through the Federal Property and Administrative Services Act. This program transfers nonessential federal property from the federal government to authorized State Agencies for Surplus Property, who then serve local units of government, businesses, nonprofits, and other eligible recipients.
However, not all of this property, including computers and other technology equipment, is immediately usable. The federal government does not currently have the authority to transfer this repairable equipment to third-party computer refurbishers. This restriction has resulted in waste and inefficiency.
To fix this issue, the Computers for Veterans and Students Act, signed into law as part of the end-of-year funding deal, allows certified, nonprofit refurbishing companies to directly obtain, refurbish, and distribute surplus government computers to veterans and others in need of a device. Additionally, the new law requires each nonprofit computer refurbisher receiving computers to provide training programs in the use of this technology.
Especially during the pandemic, Virginians saw more job applications, educational opportunities, and hiring processes move online. However, many low-income households, homeless veterans, and seniors don't have reliable access to a laptop or desktop computer.

We need to close this device divide because it's an issue of opportunity. After several years of pushing this legislation forward, I am proud to see it cross the finish line and be signed into law by the President.

The Computers for Veterans and Students Act will cut red tape, reduce government waste, and provide surplus computers, which otherwise would be tossed in the trash or forgotten in a faraway storage unit, to veterans, seniors, and students who can put them to good use.

U.S. Representative Abigail Spanberger (VA-D)

Tweet
The legislation is backed by several nonprofit organizations that help veterans and students receive these refurbished computers, including Digitunity and members of its Digital Opportunity Network. One member, Virginia-based, veteran-staffed and operated organization, Tech for Troops, recycled and refurbished over 112,000 lbs. of equipment in 2021 according to a recent report by S&P Global.
Veterans gave so much to this country. Thankfully, Tech For Troops can now give more to our veterans and their families in need.

With this legislation, nonprofits across the nation will be able to support so many more families. Thank you to Rep. Spanberger for championing this across the finish line!

Mark Casper, CEO, Tech For Troops

Tweet
The COVS Act is an important step toward digital equity. Too many American households lack access to the internet, and the tools and skills necessary to be successful online.

This legislation helps provide equitable access to opportunity by ensuring that used, but still usable, government equipment is made available to those most in need.

Shawn Daugherty, Sr. Government Relations Manager, Human-I-T

Tweet
I am pleased our 50 states and 6 territories were supportive of Rep. Spanberger's legislation by all of us working with the GSA, Congress, and the Oversight and Reform Committee to make this happen. We participated in the bill's progress and showed how bipartisanship can work in Washington, DC.

Sam Sibert, President, National Association of State Agencies for Surplus Property

Tweet
Historic funding has helped narrow the digital divide and legislation like the COVS Act enhance efforts to get devices into the hands of those who need them the most.

While we continue to fight for fast and affordable internet service, the COVS Act will help ensure that more families across the U.S. have access to a device that will get them online.

Amina Fazlullah, Sr. Director of Equity Policy, Common Sense Media

Tweet
Across the country, millions of Americans can't get online because they don't have a computer. Veterans, students, low-income individuals, older adults and those with disabilities are particularly impacted by the device divide.

The COVS Act is a commonsense piece of legislation that will keep computers out of landfills and put them into the hands of those who need them.

We thank Rep. Spanberger and Sen. Hassan for their tireless work to ensure that the inability to afford a computer does not prevent consumers from getting online.

Jenna Leventoff, Sr. Policy Counsel, Public Knowledge

Tweet
Everyone who needs a computer should have one, and no one should be left behind. Device ownership is the foundation of digital equity. The passage of the COVS Act allows federal surplus technology to be utilized to help students, veterans, older adults, and those with disabilities thrive in the modern economy. It's a logical solution and a great step towards closing the digital divide.

Scot Henley, Executive Director, Digitunity

Tweet
For too long, retired and surplus federal IT equipment has been a neglected national resource. Thanks to the passage of the COVS Act, nonprofit computer refurbishers across the country will be able to give tens of thousands of these computers a second life in order to help struggling communities and families bridge the digital divide.

Michael Abensour, Chief Impact Officer, Compudopt

Tweet