Technology can create a bridge to opportunities for education, careers, and socialization. This is especially true for people with disabilities. However, in the United States alone, people with disabilities are less than half as likely as their non-disabled counterparts to own a computer. 
That said, people with disabilities are just one of the populations Digitunity and its network serves. In this blog, we highlight the work of one of our Digital Opportunity Network members, Ability Now. They serve adults with physical and developmental disabilities across the Bay Area of California.
Established in 1939, Ability Now is a day program for adults with disabilities focused on education and community integration. They offer classes both live and online in a variety of topics. Their most notable offering is their technology center that provides different types of adaptive technology to help participants improve their overall quality of life. 
"We dream of the day when we see all people for who they are and where individuals with disabilities are fully included in their communities," said Maureen DeCoste, Executive Director of Ability Now. 
Ability Now's technology related offerings have even helped participants to start their own businesses. One notable participant is Monique Harris. Harris learned Adobe Photoshop by taking classes at Ability Now's technology center. She used the skills she acquired to start her own graphic design business. She sells her artwork online though her own website.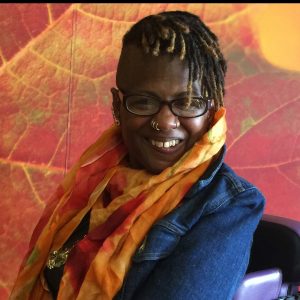 Along with making financial contributions directly to Ability Now, you can donate technology to them through Digitunity. Ability Now joined Digitunity's Digital Opportunity Network in 2001. The network makes connections between donors and organizations like Ability Now to ensure the right devices reach those who need them most, no matter what their needs are. 
Those looking to donate technology can contact Digitunity. We help you with the donation process. Since joining the Network, Ability Now has received 336 items from 116 donors through Digitunity. This need is expected to increase as the program expands its offerings, especially its online classes. The organization provides tablets to students who need them. 
Ability Now's online classes were established at the beginning of the COVID-19 pandemic in 2020. However, they've continued to grow as the online nature of the classes have allowed more students to participate regardless of their location, disability, or other needs. As these programs expand, Ability Now will need more volunteers to staff them. 
To become a volunteer with Ability Now, those interested must first complete an online application here. Then, they must pass a criminal background check and health screening. Once those prerequisites are met, prospective volunteers must attend a mandatory orientation and personal interview with Ability Now's Volunteer Services Coordinator before they can begin volunteering.
How Digitunity Helps People With Disabilities
Digitunity and its predecessor organization's mission began with a simple dream. Used computer equipment, previously destined for disposal, would be made available for use by children and adults to develop skills that would enable them to lead independent, productive, and meaningful lives.
Along with our partnership with Ability Now and other similar organizations, Digitunity continues to support people of all skills and abilities in a variety of ways. One such way is by offering a resource guide for people with disabilities that discusses the effects of the digital divide on this particular population. You can download this resource here. We hope you find it helpful.
If you would like to help more organizations like Ability Now, donate devices through Digitunity.  Donating is easy as our technology donation platform guides you through the process. You can start HERE. To learn more, or if you have additional questions about the equipment donation process, please review our FAQs.
If you don't have a spare computer to donate, don't worry.  You can still help us get computers into the hands of individuals and families that need them by supporting our digital equity work with a financial donation HERE.  Every donation, no matter how large or small, helps our work to end the digital divide.