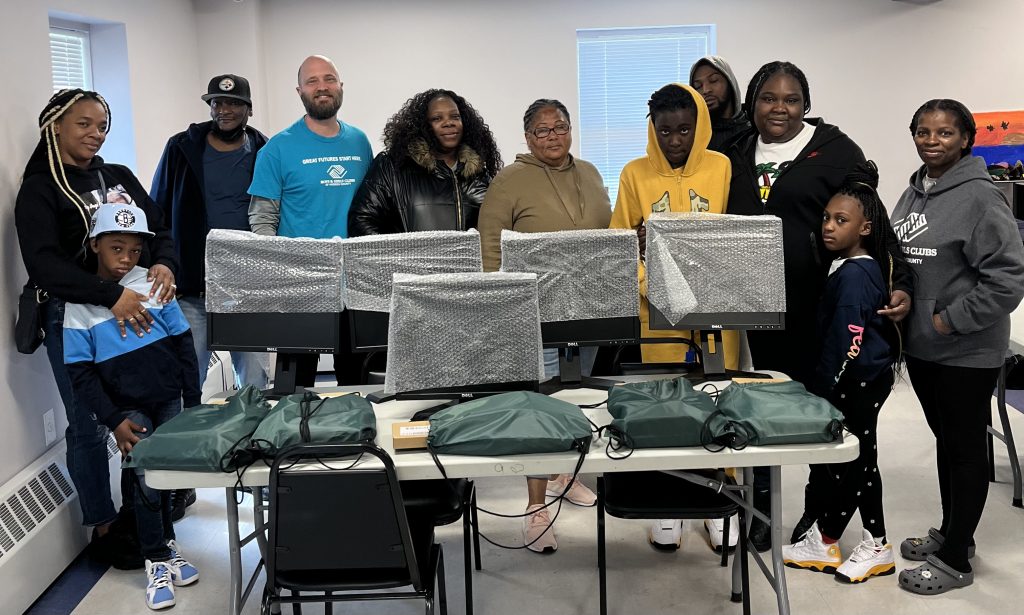 When you write a mission statement, you're supposed to crisply state what your company does, who it serves, and what the value is for your customers, your employees, your stakeholders, and your community. We help you focus on that last constituency, your community. Your city, your state, your country, your world.
It's the "S" in ESG, the Environmental, Social, and Governance proposition your company presents. Investors like investing in, and customers prefer doing business with companies who embrace their responsibility to improve life for those who need it. It's good policy, and great business practice.
One great way companies can provide enormous value to a community in deep need is to contribute their used computer equipment to those who don't have access. As the nation's broadband service is expanding to reach every corner, there are still more than 36 million people in the US who don't own a computer.
More and more families and individuals cannot readily afford the equipment needed to connect to the internet and participate in the incredible value to be found there. The computers you just replaced can open up worlds of opportunity for many people.
You may think nobody will want your old computer equipment, or benefit from it, but that thinking needs to be revised. Which would you prefer to commute to work with, a used car or a brand new skateboard?
Similarly, the kind of low-level device a family might be able to stretch their budget to afford wouldn't do much for them, certainly not nearly as much as a refurbished enterprise-level computer system originally designed to be a corporate workhorse. These powerful machines are a much better choice than something designed for low cost versus high performance.
Your Contributions Bring Great Value... To You Too!
Beyond your desire to do good, your participation in improving digital equity returns many other values back to you.
When you have more people connected and learning to use computers, you are helping build a local workforce with digital skills that you may tap into in the not-too-distant future.
Recruitment of new employees improves, as does retention of employees, as candidates and staff become aware of your focus on contributing to social good. Employees like knowing they're working for a company that cares.
Customers also appreciate organizations that give back and prefer to do business with them rather than uninvolved competitors. Many companies have made their contributions of funds and goods part of their overall brand promise and messaging.
Most participating organizations find various, often substantial tax benefits.
It is, however, difficult. It's often confusing to know who can help you. Who can help you identify families in need? Where can you contribute your equipment where you can know and trust it will do the most good?
Who can assure you of data security by effectively erasing it and certifying that erasure from the machines? Who will preserve the chain of custody to get your contributions into the hands you intended them for?
How must you prepare the equipment for safe shipment? What else may be required of you? It should be as easy to make a donation as was the decision to do so. Given your desire to help, how to help should never be the challenge.
Where Can You Fit in the Process?
It is encouraging to know that the number of organizations dedicated to helping you make contributions like these is huge, and growing. In fact, you may determine that there are opportunities for your organization to become involved in the process beyond your donations, making this decision an even greater part of your ESG commitment.
Community-based organizations are constantly canvassing for and consolidating the needs of their citizens to alert large organizations to opportunities for meaningful contribution.
Similarly, other organizations are constantly approaching potential donors to identify equipment that has been or soon will be replaced and available for contribution.
Connecting these two groups are a series of other important contributors who actually collect or receive the donated equipment, evaluate its functionality, provide any necessary refurbishment or repair to it, or recycle the unit for parts if it cannot be made suitably functional.
Logistics providers and return managers participate by keeping the flow of devices moving through the process from contributor to recipient.
Also important are the support organizations that help at every step to make sure the process runs smoothly and make sure those new users learn what they need to know to make best use of their computing equipment.
Weaving it all together are communications specialists who help provide multilingual communications as needed, and definitively make the necessary connections for everyone.
Connecting All of These Resources Easily & Effectively
Digitunity is a nonprofit organization in the social sector that has, for the past 40 years, been central to helping close the digital divide by connecting those with equipment to share with those who need it. Our organization believes everyone who needs a computer should have one, and that device ownership is the heart of digital equity.
Possessing a functioning, connected computer and the skills to use it productively is a basic, fundamental need in today's society. Digitunity is a national nonprofit organization working to make sure that everyone who needs a computer has one. 
We provide education, resources, and guidance in finding the right places to donate, as part of a collaborative, cross-sector strategy to develop Sustainable Device Ecosystems (Figure 1) in local communities.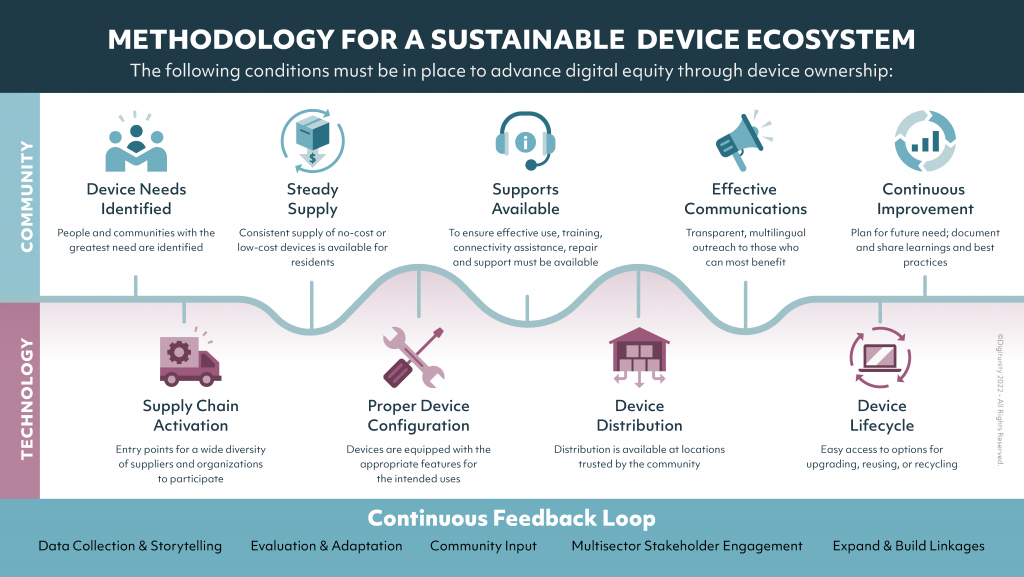 Digitunity, together with a constellation of over 1,500 frontline organizations serving and supporting marginalized populations that includes nonprofit organizations, faith-based communities, schools and postsecondary institutions, state and federal government, community coalitions, technology refurbishers, and corporations, as well as like-minded individuals, all working together to provide local impact in communities nationwide. 
Our mission has been made significantly easier by our affiliation with the Reverse Logistics Association (RLA), whose many members can participate in this community of giving. We work with those members to match equipment donations with those who need them. Through our network, we also facilitate user training, support, and whatever else the proud new recipient of your donated computer needs to make the most of their new connection to our digitally-connected society.
Start Feeling Good About Helping Today
Many organizations are putting more focus on the importance of supporting the worthy cause of digital equity and all the social value it brings. Connecting more citizens to the network and extending the useful life of their decommissioned computers to turn what might be sold off for pennies, or discarded as e-waste, into someone else's blessing.
Improve your ESG profile and enjoy all the benefits to your organization's reputation. Become part of the digital equity process. Digitunity is here to help them every step of the way. Reach us at digitunity.org or email us at info@digitunity.org.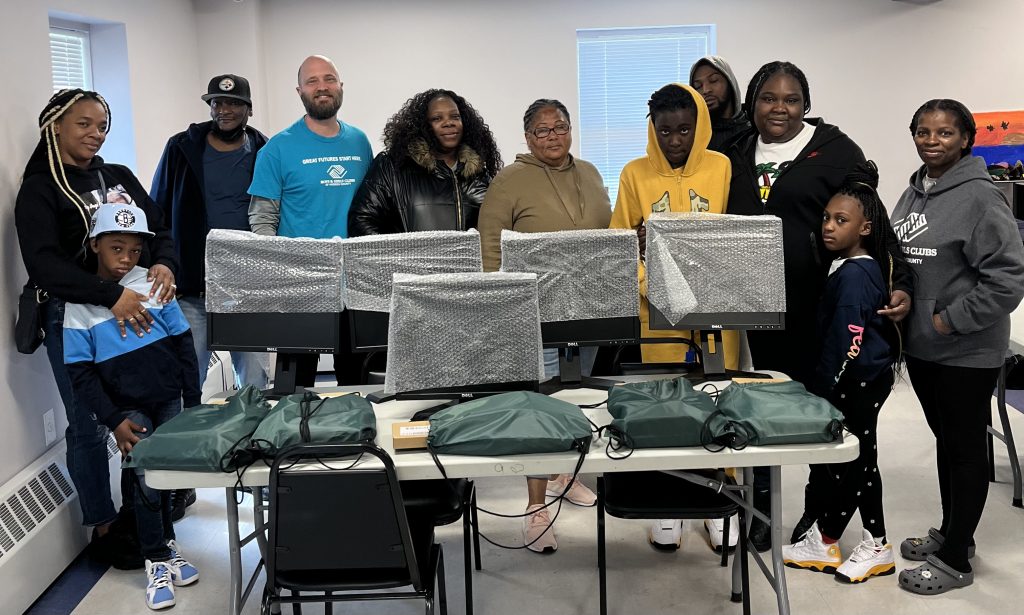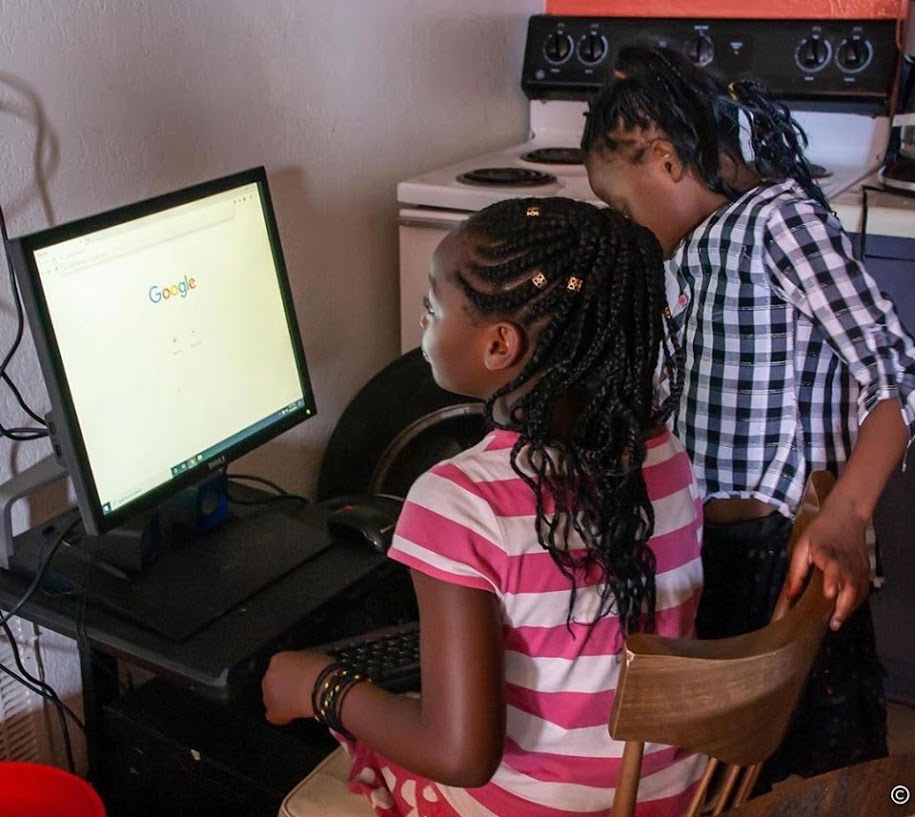 About The Reverse Logistics Association
The Reverse Logistics Association (RLA) is the only authoritative body for best practices related to reverse logistics. The RLA is a member-driven, global trade association for the returns and reverse industry. The RLA offers information, research, solutions, and facilitates networking introductions for manufacturers, retail companies, and third-party providers. 
This article by Digitunity's Senior Director of Strategy and Development, Susan Krautbauer, was published in the Reverse Logistics Association Magazine, which you can read in full here. She is also participating in panels at the Reverse Logistics Association Conference in Las Vegas, NV. You can find more information on these panels here or in the graphics below.