Digitunity connects computer donations with people in need,
closing the technology gap while reducing eWaste.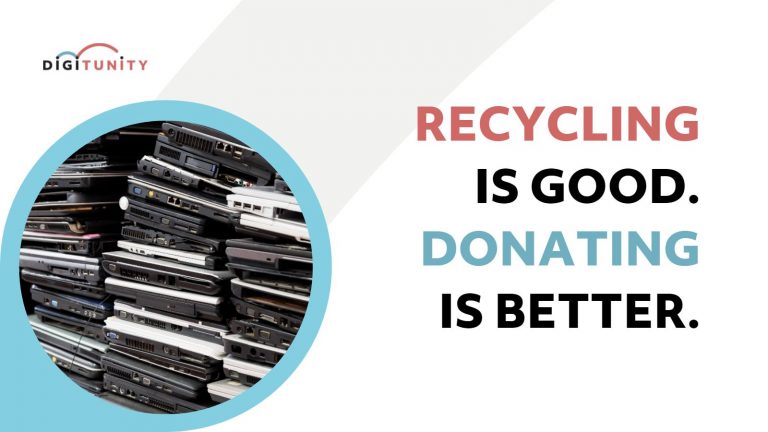 NORTH CONWAY, N.H., April 4, 2022 – Businesses are embracing the green IT movement of making computer hardware and operations sustainable. Digitunity, as a national charity dedicated to closing the "digital divide," endorses green IT for aligning with its mission of connecting used computers with people who need them.
According to the United Nations, in 2019, the world discarded 53.6 million tons of e-waste. Only 17.4% of that e-waste was recycled. Green Information Technology (Green IT) practices help to reduce the environmental impact of computer technology through sustainably focused device manufacturing and data center operations. Digitunity sees this as an opportunity to help both people and the environment.
"Given the environmental problems facing us in 2022, our long history as a voice for computer donation and reuse allow us to do our part to help the planet while also helping to achieve our mission of closing the technology gap," said Susan Krautbauer, senior director of strategy and development for Digitunity.
Access to technology contributes to education, health, employment, civic engagement, and financial stability. However, 36 million people in the United States do not own a computer, in turn, creating the "technology gap". For this reason, Digitunity and its predecessor organization have worked for almost four decades to address this gap.
By linking corporate and individual donors with thousands of partner organizations serving people in need, they place tens of thousands of computers each year in the hands of individuals who need them for education, work, and daily life.
Digitunity creates "Return on Community" with programs that:
Increase the supply of no-cost and low-cost computers in communities.
Position technology reuse at the center of the solution.
Drive local business, government, and philanthropic engagement.
Secure relationships between nonprofit technology refurbishers and front-line community organizations.
Recruit and involve local ambassadors to champion the work and share their first-hand experience.
Establish and promote a barrier-free pathway for individuals to obtain devices and related support.
Digitunity not only finds homes for businesses' used computers but also connects member organizations through its Digital Opportunity Network. Along with facilitating device distribution, Network members provide digital literacy training and technical support to new technology users within their respective communities.
Through research, Digitunity also identifies new opportunities in technology reuse and distribution in communities across the United States. Join the conversation, find recipients who can benefit from your used technology, or support the mission of closing the digital divide here.