This report highlights government legislation from around the globe that primarily informs personal ownership of computing devices. Over the next three installments, we will be publishing portions of this report, "Digital Inequalities, E-Waste, & Right-to-Repair" authored by Dr. Amy Gonzales, as part of a blog series on digital equity and device access policies. If you'd like to read the report in full, you can access it here. In this post, we highlight the sections of the report discussing policy and device distribution.
Although the US government has long played a key role in promoting internet and computing access, a review of U.S. federal legislation reveals an emphasis on internet access over other factors also necessary for holistic digital connectedness, such as device access and digital literacy training. Indeed, personal device ownership is essential to optimize the benefits of internet access.
Vulnerable populations in particular, for example, students or the chronically ill, stand to gain the most from stable, individual access to a large-screen computing device, such as a laptop or desktop computer. Therefore, this report specifically explores policies shaping personal access to subsidized computing devices, especially through the non-profit computer refurbishing sector.
The policies covered in this report come from a range of policy sectors. These include digital inclusion, e-waste, and "right-to-repair" policy. This may seem, in some ways, a disparate collection of policies, but each informs the availability of low-cost computing devices. Based on a review of academic and government databases on these three policy areas, we'll present a synthesis of research from each of these as they inform the experience of personal device ownership around the globe.
The purpose of this report is, first, to identify the ways policy already plays a role in shaping personal computing access in various regions of the world. Second, we'll use that information to identify policies that practitioners, researchers, policy makers, and other digital equity activists might target to optimize computer access over the coming decades.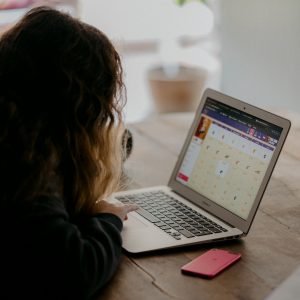 Given Digitunity's commitment to reducing digital inequalities, I start by highlighting government policies designed to do just that. Within the US, universal service policies originated to ensure landline telephone access have since evolved to provide internet and mobile telephone service, especially for schools, libraries, rural areas, and tribal residents.
Since then, a range of US legislation has passed over the years, often with an emphasis on broadband adoption and internet access rather than device access. Analysis of policy in the EU suggests a similar emphasis on broadband. Indeed, scholars note a variety of approaches to improving internet service in countries around the globe, including in both developing and developed contexts.
Although it is impossible to review the efficacy of digital divide policies worldwide, multiple scholars emphasize the importance of buy-in from stakeholders across scale (i.e. federal governments, municipalities, community organizations), with an appreciation for internet, device, and skills support.
Others note complementary policies, such as investment in economic growth and tertiary education. Finally, a comparison of federal reports in the U.S. and EU found that over time they increasingly focus on the economic benefits of access. Though, the EU mentions government actors more than the US.
Subsidized Device Distribution
Although, analysis of broadband policy above highlights how policy can reduce digital inequalities generally, our goal is to target policies that reduce disparities in device access specifically. Perhaps the most common type of policy to do that are those focusing on large-scale distribution of devices to a population. 
In some cases, this includes seniors or low-income households. Often, it includes students or youth. This was especially true over the last two years of the COVID-19 pandemic. As an example, a 2021 survey of Californians found 72% of households with a student received a computer from their children's school. 
One of the most well-known programs targeting youth is One Laptop per Child (OLPC). OLPC was a non-profit initiative created to distribute low-cost laptops to children around the globe that originated in MIT's Media Lab. It was backed by the United Nations in 2006. From its inception, OLPC struggled with the target laptop price of $100. It was criticized for a top-down approach that did not appropriately consider regional needs.
Yet, OLPC had successes before closing in 2014, including an exemplary case in Uruguay credited with reducing disparities in device access there. Part of the reason for the Uruguayan success is that, along with device distribution, the program "created an ecosystem of free educational software and content, and distributed new pedagogical practices to complement them." The strength of holistic approaches to addressing digital inequalities are echoed throughout the literature. 
A more current example of funding for devices is the recent U.S. stimulus funding passed in 2021 that provided $3.2 billion dollars for the Emergency Broadband Benefit (EBB). EBB not only provided up to $50 for in-home broadband, but also $100 towards the purchase of a device for eligible households. The Infrastructure Investment and Jobs Act added another $14.2 billion in order to extend EBB beyond 2022 as the rebranded Affordable Connectivity Program. 
These funds, managed by the Federal Communications Commission (FCC) provide an enormous influx of funds for long-term, individual internet and computing resources. Although the Lifeline program has also been used in the past to subsidize mobile phones, hotspots, and monthly cell service, the ACP will be the first time an FCC program widely subsidizes personal large screen devices, such as desktop and laptop computers. 
While both OLPC and EBB were intended to expand technology access to low-income individuals, they both suffer, as many large scale programs do, from challenges with implementation. For EBB, the device benefit is only available through ISPs and only a portion opted to offer devices. Digitunity recognizes the opportunity to learn from these initiatives. We continue to strive for creative solutions to ensure device ownership is available to all.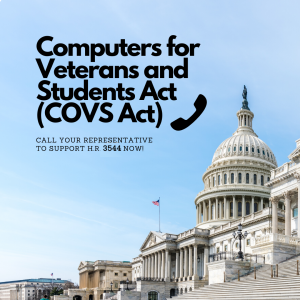 For example, Digitunity, the Alliance for Technology Refurbishing and Reuse (AFTRR), and Public Knowledge, are working together to support the passage of landmark legislation to close the digital divide. The Computers for Veterans and Students Act (H.R. 3544, the "COVS Act") would direct hundreds of thousands of out-of-service, repairable computers from the federal government to nonprofit refurbishers. 
Participating refurbishers will repair and distribute these devices. Then, along with digital literacy training resources, these devices will be provided to educational institutions, veterans, people with disabilities, low-income individuals, students, and seniors. The COVS Act was introduced by Rep. Abigail Spanberger (D-VA) with bipartisan support from initial cosponsors Rep. Wittman (R-VA) and Rep. Luria (D-VA). As of April 2022, the bill was in the House waiting on a vote to move onto the Senate.
Supplementing Access Outside the Home
In addition to individual-level device distribution, another common government approach to improving digital access has been to fund devices and internet access at public community centers. Scholarship from around the globe found such centers can provide critical resources, especially in areas of the world where household-level telecommunications infrastructure is lacking.
Common criticisms of public community centers, like libraries or community computer labs, include the fact that sometimes staff are not sufficiently trained to troubleshoot problems that arise or help clients with questions they may have. There is also often a lack of investment and upkeep over time. However, even in industrialized countries centralized access to devices has historically been a means of trying to help close digital divides.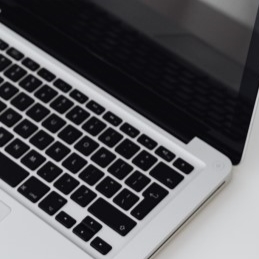 This is perhaps best illustrated in the U.S. with the 2010 Recovery Act, which allocated $4.7 billion to public and corporate digital initiatives, including funding for both public community centers and connecting households, businesses, and community anchor institutions (CAI) such as schools and libraries. A report from the National Telecommunications and Information Administration (NTIA) estimated that over 40,000 public work stations were created as a result of this funding.
Though, again, this initiative was not without criticism. Implementation of funds was sometimes slow or difficult for grantees. Some questioned the value added by these funds on broadband enrollment. Nevertheless, public community centers have long been an essential, relatively cost-effective way of supplementing a lack of in-home access to large-screen computing devices.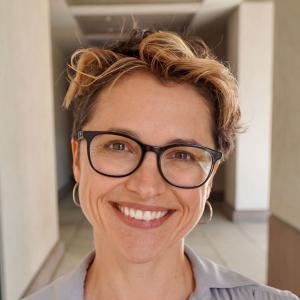 Amy Gonzales is an Associate Professor in the Department of Communication at the University of California, Santa Barbara. Her work examines the digital divide, particularly short-term disruption in access to devices, and the effects of social interaction via communication technologies on well-being. 
She is especially interested in these phenomena for people from disadvantaged communities. Her work aims to advance theoretical understanding and real-world solutions that may mitigate the long-term consequences of new digital infrastructures that otherwise exacerbate existing social inequalities.