Addressing the Homework Gap
A 10-City Pilot Project to Support K-12 Students & Families
Bridging The Device Gap for Students & Their Families
Digitunity recently announced a $2.5 million contribution from AT&T to help bridge the digital divide for underserved students and families in 10-U.S. cities. Over two years, 20,000 K-12 aged students and families who lack devices to participate in virtual learning will benefit from receiving low to no-cost computers, as well as tech and digital literacy support to help them effectively engage in today's digital learning environment.    
Participating Cities Include: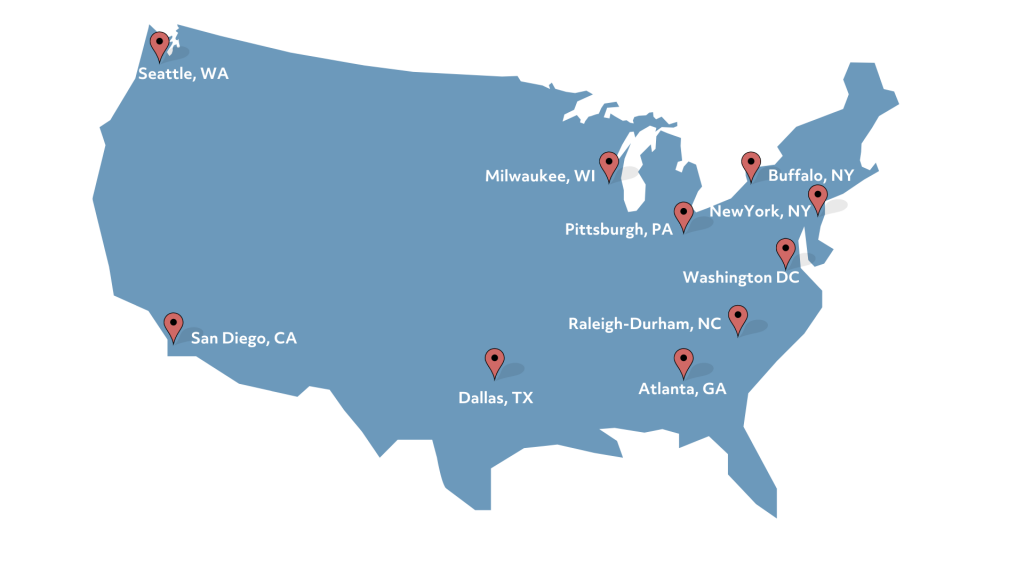 Along with building upon work already being done in each metropolitan area to provide long-term device ownership, digital literacy, connectivity, and education support, while diverting an estimated 260,000 pounds of e-waste from landfills, the 10-City Pilot Project's three main goals are to:
Increase the supply of low to no-cost devices available to families in each city.
Map the pathways and barriers to device access in each city.

Connect stakeholders and build robust, sustainable, and accessible device ecosystems in each city.
All of these goals are critical steps towards advancing digital equity and ensuring everyone has access to a large-screen device such as a desktop computer, laptop, or tablet. Learn more about how we're achieving these goals below.
Digitunity is working with non-profit refurbishers in each city to distribute low to no-cost large screen devices to 20,000 young people between July 2021 and July 2023. Most devices come with a warranty and access to free technical support and digital skills training.
These are the organizations selected to provide refurbishment services in 10 cities across the United States: Inspiredu in Atlanta, GA; Mission Ignite in Buffalo, NY; Comp-U-Dopt in Dallas, TX; Digital Bridge in Milwaukee, WI; Electronic Access Foundation and Human I-T in New York, NY; Computer Reach in Pittsburgh, PA; Kramden Institute in Raleigh-Durham, NC; Computers 2 Kids in San Diego, CA; InterConnection in Seattle, WA; and The Wilderness Technology Alliance in Washington, DC. These nonprofit technology refurbishing organizations are members of Digitunity's Alliance for Technology Refurbishing and Reuse (AFTRR) program.
The project creates alliances among device refurbishing organizations, local nonprofits, and businesses to acquire previously used computers that are refurbished and distributed to students affected by the digital divide in the 10-cities. 
Connecting Stakeholders & Building Device Ecosystems
Digitunity, in partnership with Visible Network Labs, has launched a survey to identify the organizations working to advance digital equity in each of the 10-cities to visualize their relationships with each other and map what we call each city's "device ecosystem". This ecosystem is comprised of the organizational interactions and partnerships that directly or indirectly lead to increased device access for all residents.
Digitunity recently hosted an info session to provide additional context about the survey. For more information, please watch the recording or view the slides. We are interested in recording the insights of our colleagues across sectors and interest areas. However, we are always looking to connect with existing or potential digital equity partners in the non-profit, government, and business sectors. Contact Karisa Tashjian, Digitunity's Director of Programs here.
Take The Survey. June 1 – July 31, 2022
Non-profits, government entities, and businesses that are currently involved in digital equity efforts or might want to be involved can follow the link below to participate in the survey for their respective city. Please note that this survey is not limited to organizations currently involved in digital equity efforts.
We encourage you to share the survey with other local organizations that may be interested in contributing their insights to our collective understanding of digital equity in your city. You can find a shareable email template here. It includes a brief explanation of the survey's purpose, the public survey link for your city, and links to additional resources.
Survey Links by City (click your city to start the survey)
If your city is not listed above, please complete the form below. We will contact you if there are any future projects in your location. In the meantime, check out the News & Information section of this page for further updates. 
This project is made possible through the generous support of AT&T.
Advancing Digital Equity
A critical step towards advancing digital equity is to ensure every person has access to a large-screen device such as a desktop computer, laptop, or tablet. Digitunity is a national organization focused on building relationships across sectors in order to shift existing structures, processes, and policies to increase large-screen device ownership at the local, state, and national levels. We are always looking to connect with existing or potential digital equity partners in the non-profit, government, and business realms. Get in touch with us here.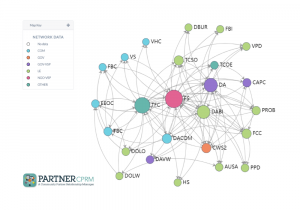 Partnership with community groups works to improve the state's ranking for broadband coverage. Digitunity, a national nonprofit organization that advances digital equity through device ownership,
Read More »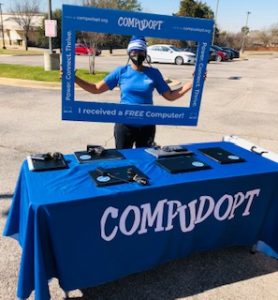 When one woman received the gift of technology, she used it to teach and encourage others.  Understanding computers is a foundation on which one can
Read More »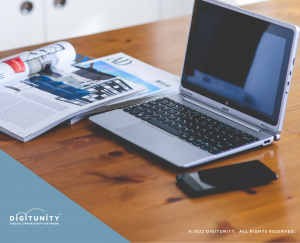 This report highlights legislation informing personal computer ownership.
Read More »